Anyone who pays attention to Kickstarter or any kind of tech news would have heard of Pebble by now. It's the project that went completely beyond what anyone could have expected. The makers originally looked for US$100,000 of pledges, with an aim to make 1000 watches; they ended up having to close it early after raising over US$10 million, with an expectation to send out over 85,000 watches.
That sort of success really screws up with your plans, so for months backers had to wait while they shifted the assembly operation from the US to China, worked on the hardware to make sure that all of the kinks were completely worked out, rather than sending out essentially unfinished beta products, and attempted to set up a full business model. While I don't think they were completely successful in ensuring their relationship with backers/customers were kept positive throughout the whole process, I think they have been successful in creating a great product.
I wasn't one of the original Kickstarter backers, though I was a fairly early pre-order. I kept an eye on their blog and forum after placing my order, then in January when I was invited to pay for my order I started checking it a couple times a day waiting for updates on when they would start shipping. Officially I was meant to get mine after all the Kickstarter watches had shipped, but after having some major issues with molding the plastics for different colours they invited backers to black in order to hurry the whole process along.
Nine months after my order my black Pebble arrived in the mail (before some of the orange and grey, and all of the white ones, much to the annoyance of those who backed the Kickstarter). I rushed from work to get it, tore it open, and was presented with a wonderful sight.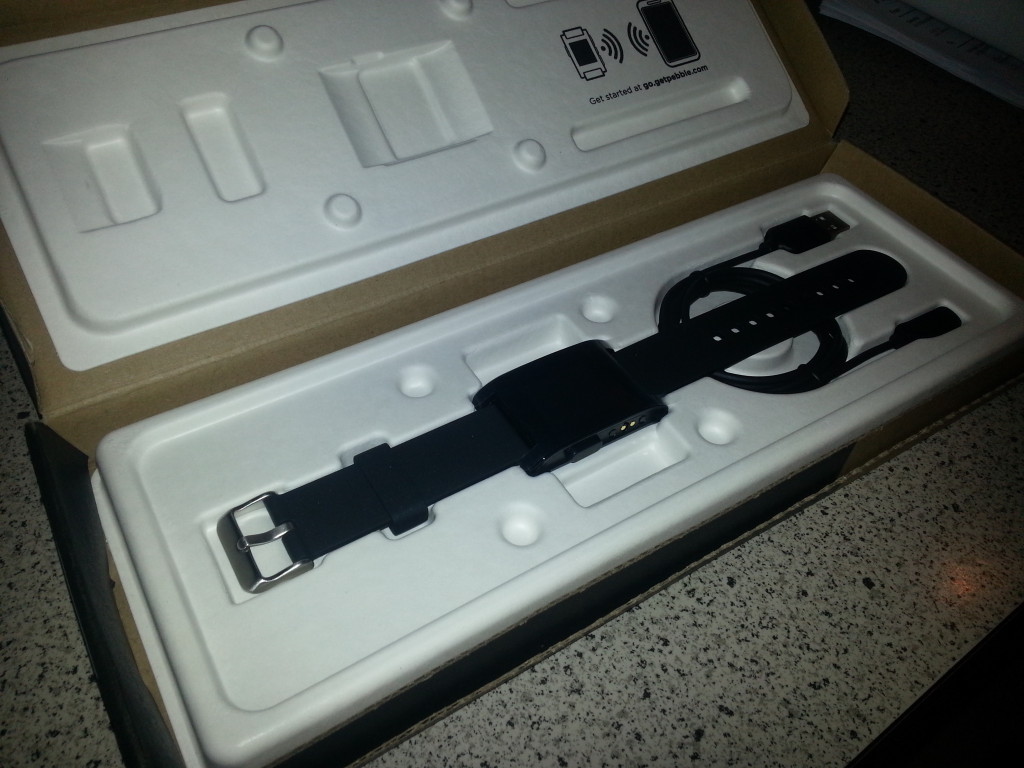 First thing I did was charge it up for a bit, put on the Beer O'Clock face (because seriously, what use is a watch with customisable faces if I can't annoy my mates with a stupid joke) and the Police Box face (I am guilty of being a Doctor Who geek), and then off I went to the pub to show it off.
Now here I am, four days later, and what do I think? Well, I'm not at the point where I'm finding it absolutely necessary to have it on my wrist at all times, but I'm sure I'll get that way soon enough with a little time and a chance to change some habits. It is great having notifications show up on my wrist, especially calls and SMS since I have a nasty habit of missing them in my pocket. I like how when I'm in meetings I can read messages and notifications without being blatant about not paying attention (in fact I got away with reading a facebook message while I was talking in my last meeting, without missing a beat).
I need to tweak a few things though. For some reason my @replies from Twitter show up with the tweet, but not who sent it (meaning I have to pull my phone out anyway to check that). Also I have four different email addresses all syncing into my gmail account, but I'm only getting notifications sent to the main address on the pebble.
I'm pretty stoked about the possibilities though. Already I've found a wicked hack with Tasker and Secure Settings to use my pebble as a kind of security tag for my Galaxy S3. I hate using Pin locks or anything on my phone as I don't want to waste seconds typing something in every time I need to check it, though I realise how important it is to have a secure phone (especially with friends/workmates who like to post moronic stuff on facebook if they find you logged in). So now I've set up a PIN lock on my phone that is disabled whenever the pebble is paired (meaning if I move out of bluetooth range, or if my phone is taken out of range, it's almost instantly secure). Now that's almost a killer app.
Would I recommend a pebble to everyone? Not really. Plenty of people probably find themselves overwhelmed already by the immediacy of communications, and having even less disconnect would cause extra strain. I'm also sure that there are people out there who will balk at the lack of functionality on the device (only four buttons! no touch screen! no colour!) or who would be waiting for the iWatch (though I doubt Apple could improve on this really. I like the fact that it's not a standalone device).
It's kinda cool being an early adopter though. If you're tempted to get one, great. Place an order. But just remember that you're probably looking at about a six month wait to get it.
Now, I wonder when Google Glass is coming out, and how much it'll be…