I got really into reading the Millennium Trilogy (The Girl With The Dragon Tattoo et al) a while ago, and during this time that I was marveling at how awesome Sweden seemed compared to, well, anywhere, I figured that eating Swedish Meatballs might be a Good Thing. And even though it's probably not close to anything you might get in Sweden (what the fuck is a lingonberry anyway?) my recipe is pretty fucking tasty. It probably feeds four people, but I split the whole lot up and eat it over a few days, because I'm a fat bastard and I cook for me alone.
So, what you're going to want is some decent ground beef (or as we say here in Kiwiland: 'mince') about 500 grams worth for three or four people, bread crumbs, milk, allspice, mustard, garlic, onion, flour, beef stock, and sour cream.
So, first up, take a small to medium onion (you don't want too much, but don't pussy out on it here) and chop it up nice and fine. You want it nice and fine because it's going into your meatballs, and if you leave giant-ass chunks through it they shrink while they cook, which makes your meatballs fall apart. And then they're not balls, they're more like shitty chunks of tasty fried meat.
If you don't know how to chop up an onion without crying like a 15 year old who just found out his girlfriend cheated on him with like, five guys, you're in the right place. You want to get the onion a little bit chilled, either by giving it a bud or two to smoke, putting it in the fridge for at least half an hour, or in the freezer for about ten minutes. You also want to make sure your knife is as sharp as fuck, and do your cutting on the bench next to the sink with the tap turned on. Chop that bitch up as fine as possible, and hopefully it should look like this: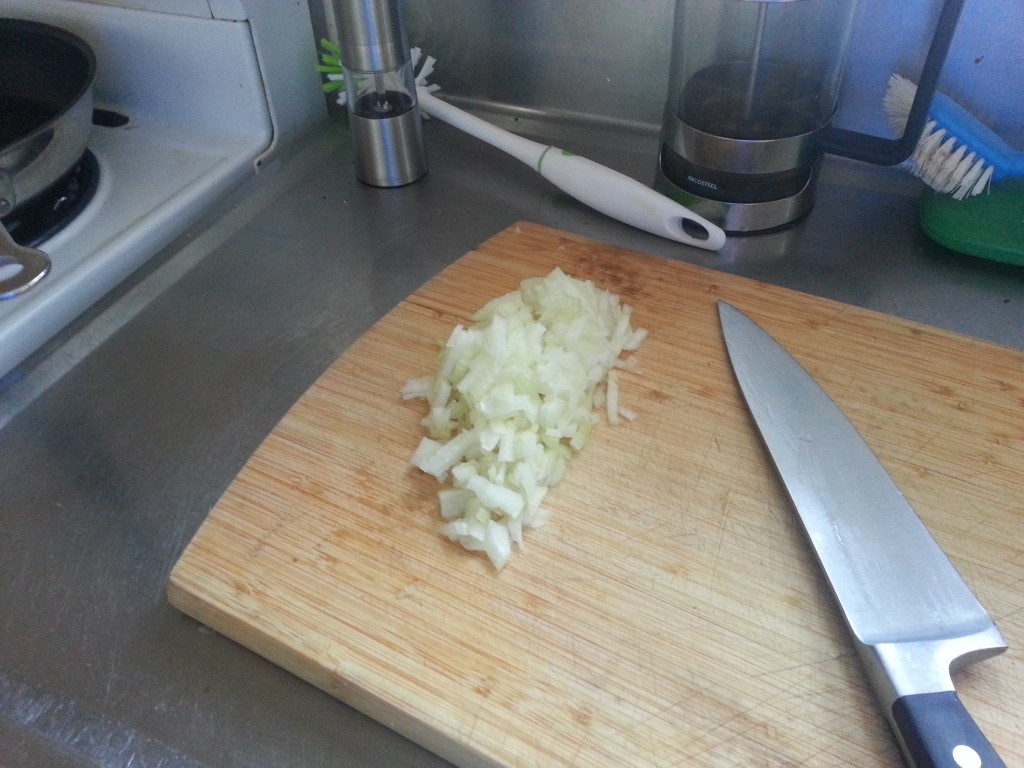 Then take a few cloves of garlic, at least one, but if you're hard as fuck like I am, do a good half dozen, and chop it up really fine as well. If you don't know the best way to get your garlic skin free and chopped without fucking around, read this. It's exactly the way I do it. Anyway, you should have a pile of awesome Allium on your board, ready to go like so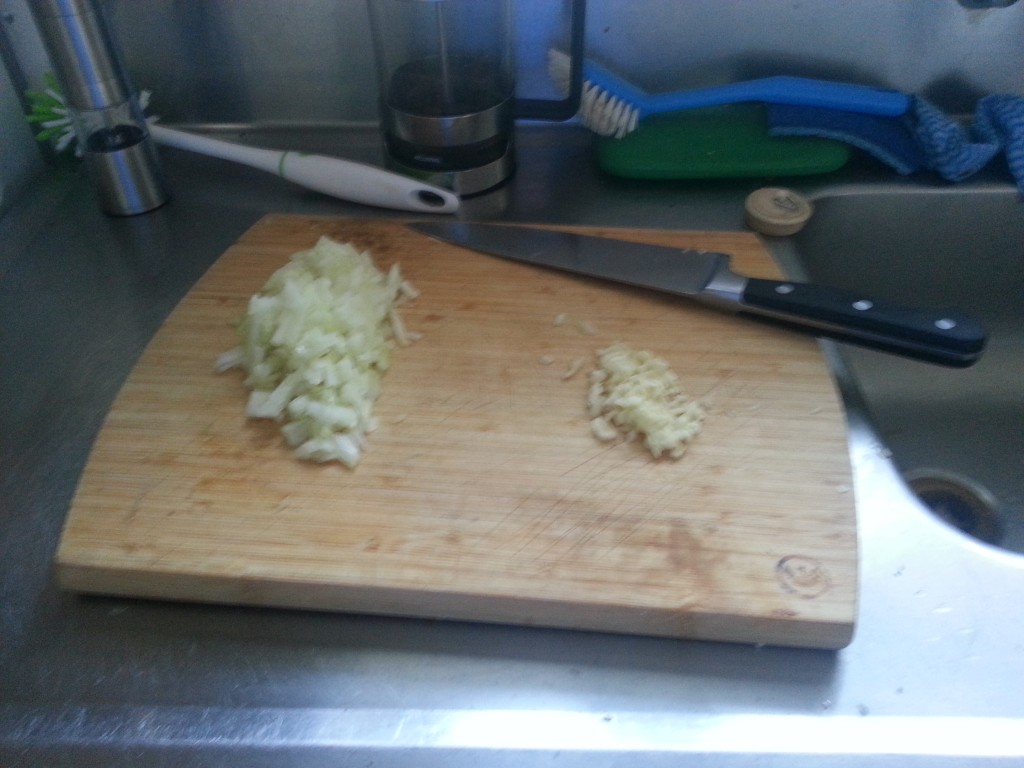 Next what you want to do is take about half a cup (or maybe more, who measures?) of breadcrumbs and throw those into a bowl. I like to use wholegrain breadcrumbs, but if you're some kinda white bread motherfucker, do whatever floats your boat. Then you want to put some allspice in there, about half-to a teaspoon worth, along with your salt and pepper (freshly ground of course, we're not assholes here). Pour in some milk, about a cup worth, mix it all up, and then let it sit for a while.
While you're waiting for it you might as well sort out your sides. Mashed potatoes is the traditional side of choice, but I also like it with fettuccine. Do whatever floats your boat, you're eating it. At this point I was also slicing carrots in case my mother reads this, so I can make her think that I actually eat some kind of vegetable matter.
After about five or ten minutes your milky crumb mix is going to get all soaked in and look pretty solid. Take your onion and garlic and biff it in, along with a good teaspoonful of mustard. I use dijon because I'm fucking fancy like that, but a decent english or whole grain mustard works well too. Make sure you lick the spoon. It puts hair on your balls (or vulva if you lack balls).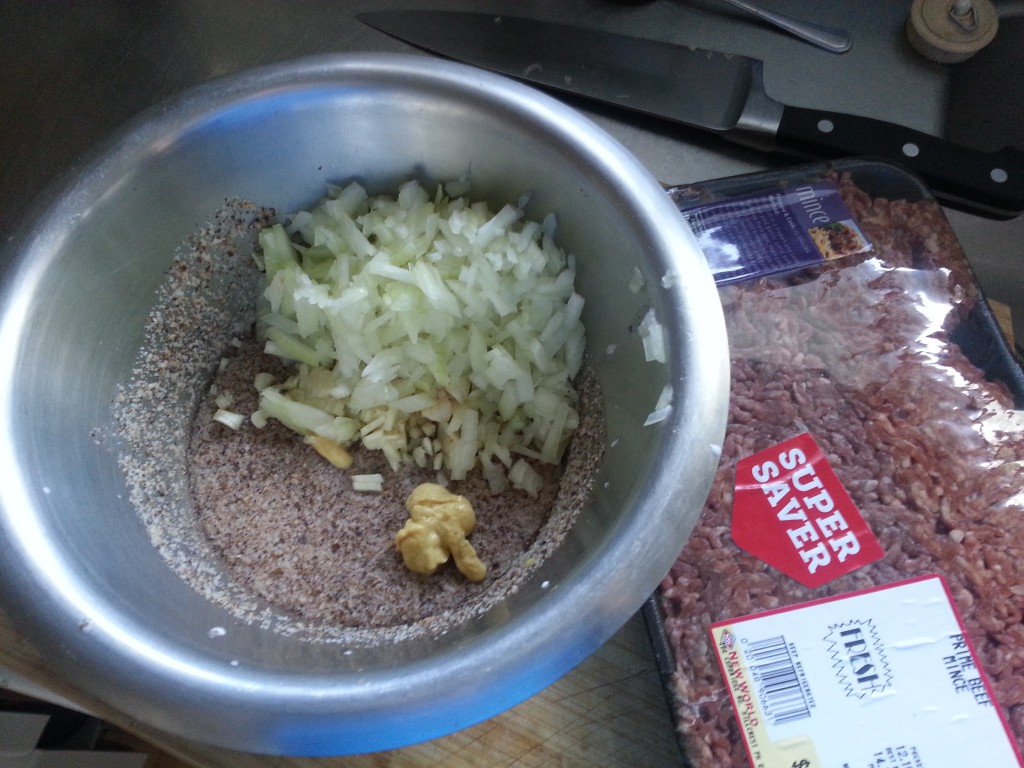 Then mix in your beef like a boss. Add an egg if you want. I always mean to, but forget, and the shit turns out great anyway. You want it mixed in really well, otherwise you get these weird changes in consistency when you hit a lump of the breadcrumb stuff, but don't mix it too well otherwise it all turns to shit. Use your own initiative there. I'm not here to hold your frigging hands.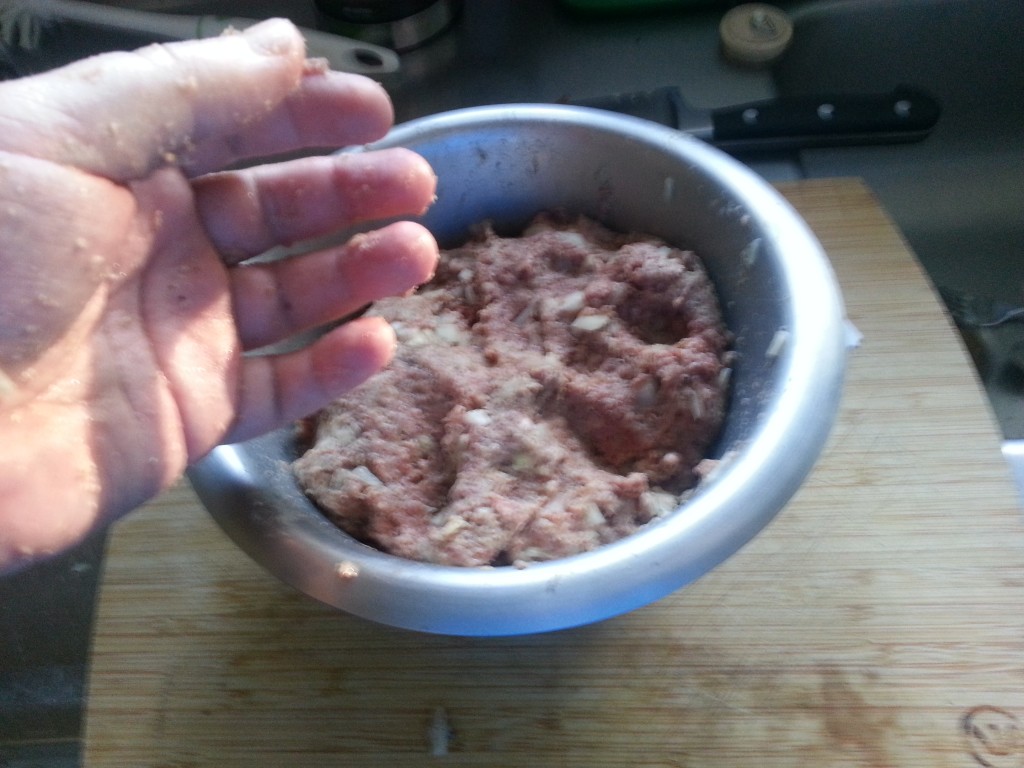 Once it's all nice and mixed start making your balls. The best way to do this is to wet your hands, grab a little chunk, not too big but not too small otherwise you'll be rolling this shit forever, and then squish it into a decent ball. Put it on a plate, and start with the next ball, wetting your hands every couple to stop them from getting all sticky. If you've done things right, then you should have a nice plate full.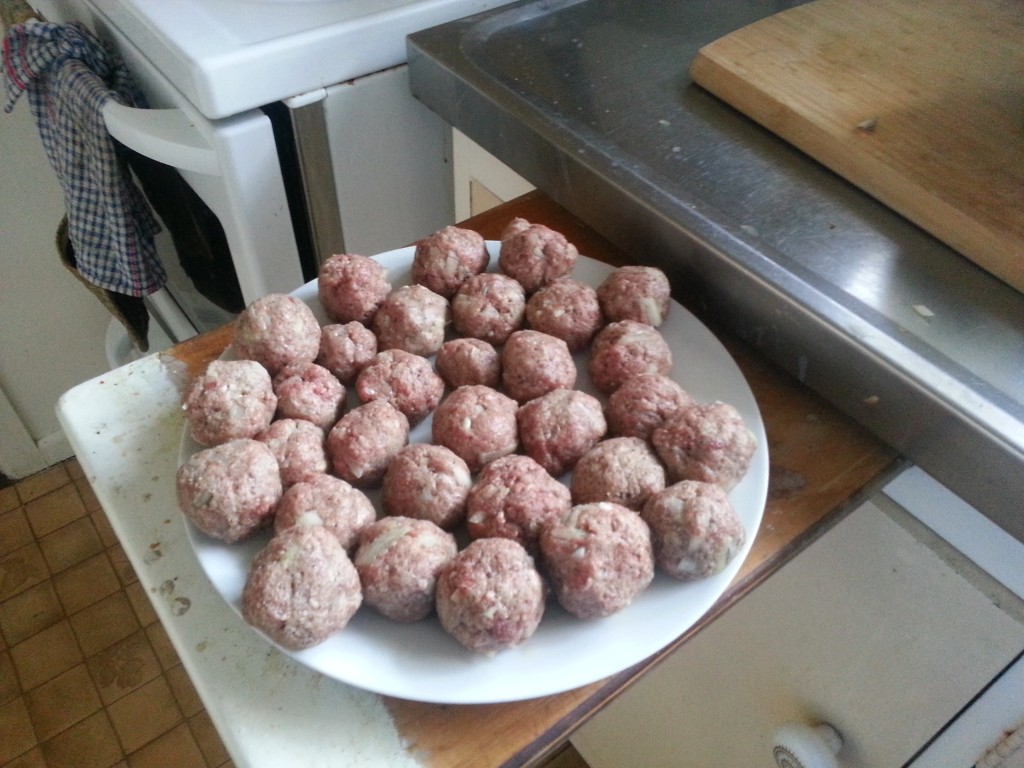 Then start frying them up. You want a decent amount of oil in the pan, or even better, a mix of oil and butter. You need something to make the sauce with. It's about this point that I started feeling a little thirsty, so I grabbed a home brewed IPA to take the edge off. Also, check out the carrot and potato all ready to go. That's cause I plan like a motherfucker.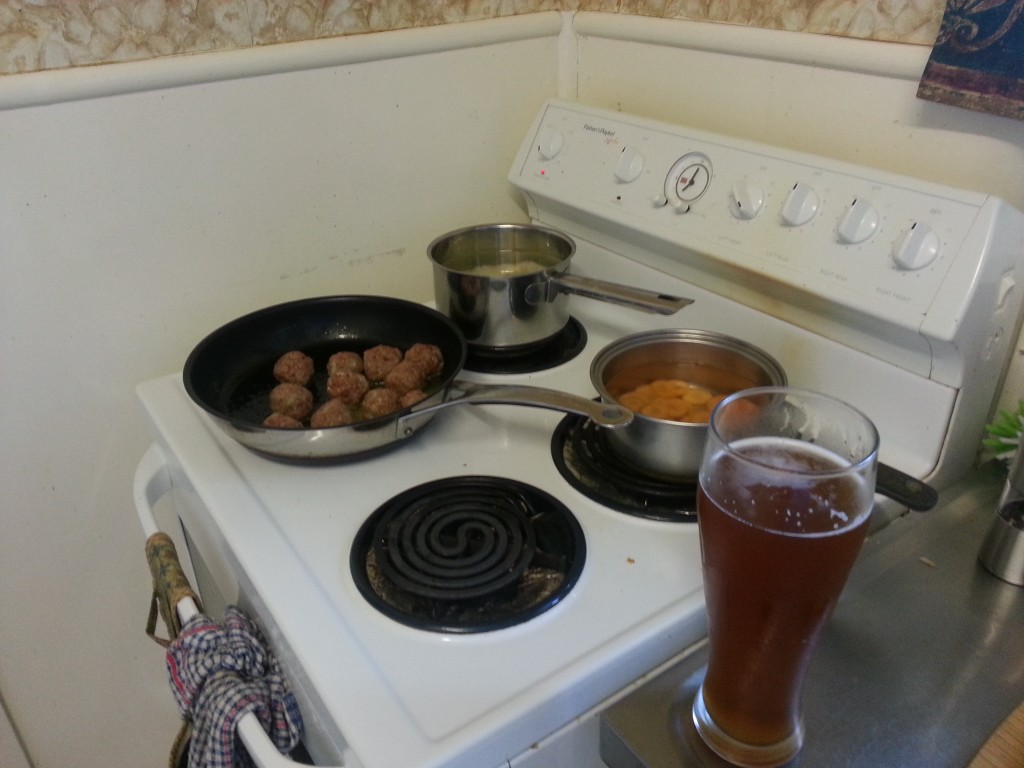 Cook that shit up, and when it looks done put your balls, using a pair of tongs or a slotted spoon, on a tray with some baking paper and in the oven to keep warm. Now, while your sides cook, you make some motherfucking brown sauce!
Take your pan off the heat and put about a tablespoon of plain white flour in there, and stir it up with all your pan drippings and the awesome stuff that came out of the meatballs. Make sure you've got no lumps, because lumpy sauce means you've failed at life. If you didn't know this is called a roux, and it's the bomb for making sauces. Put it back on the heat and it should look like this.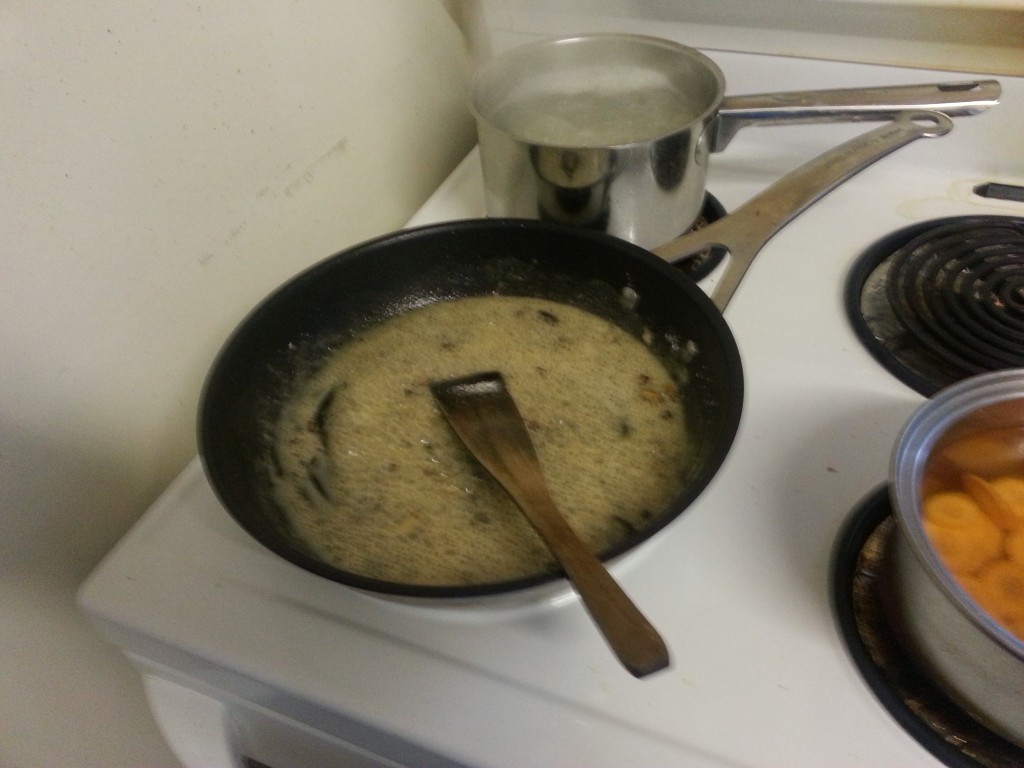 Pour your beef stock in, but don't be a fuckwit like me and forget to take the pan off the heat. When you don't take it off the heat the roux starts to go lumpy, and then you need to stir like a motherfucker to try and get it smooth. Since we want to conserve our motherfucker-stirring energy just make sure you take it off the heat. After you've got it all nice and smooth and it's started thickening up it should start getting a shine on it.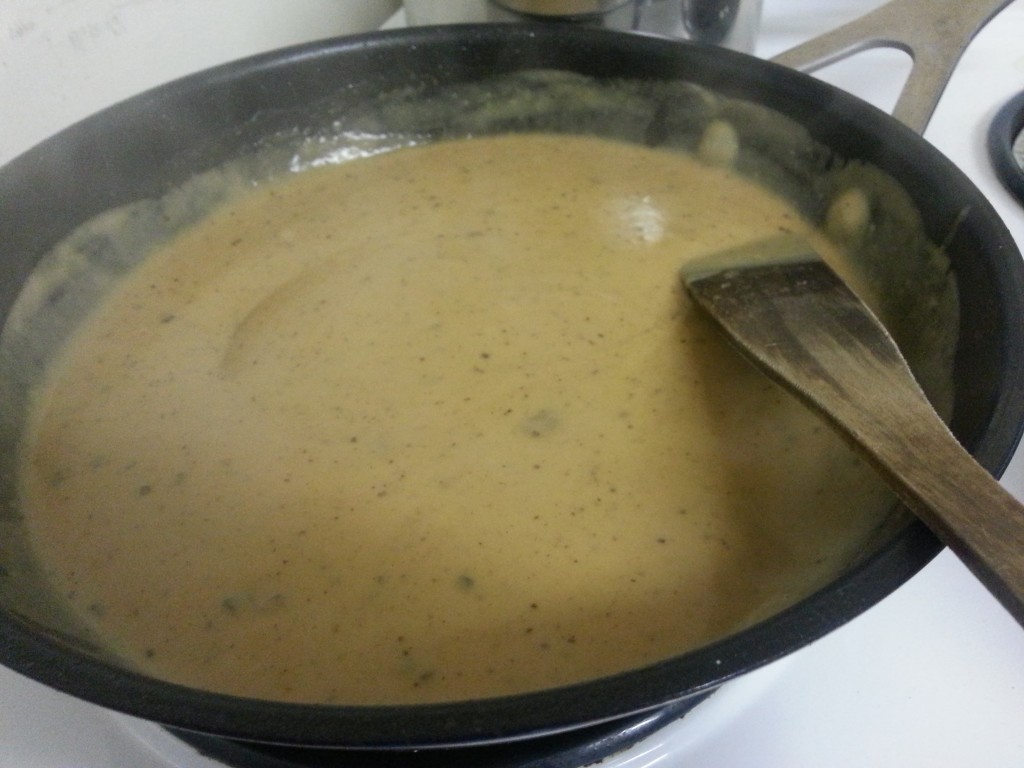 Now is where we really need to stir like a motherfucker. Put a good heaped tablespoon of sour cream in, and get that shit broken down and mixed in nicely. After it's all mixed up take your balls out of the oven, dump them in the sauce, and make sure any juices go straight into the sauce because  it just makes it even tastier. Make sure they're all coated in the sauce, and turn the heat down while you go fuck with your sides.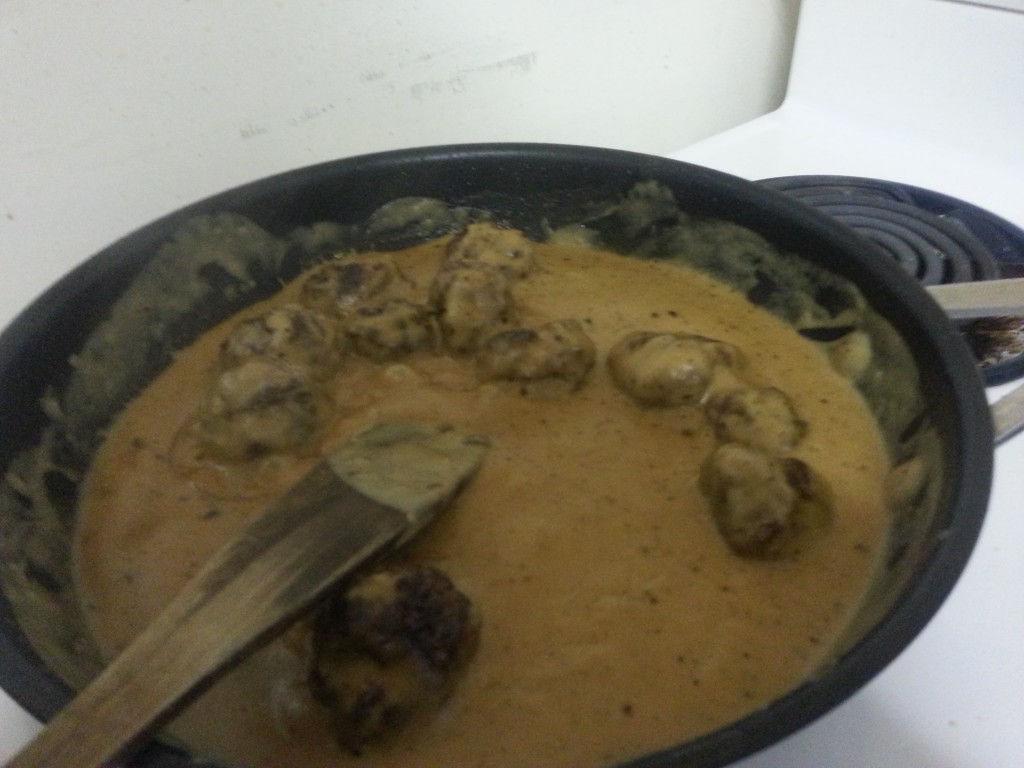 Then start to plate that shit up. We're not trying to make the dish all pretty. We want it set up so we can shovel it into our mouth-holes as quickly as possible. Do it however you want, but I'm happy with a pile of food and a large fork.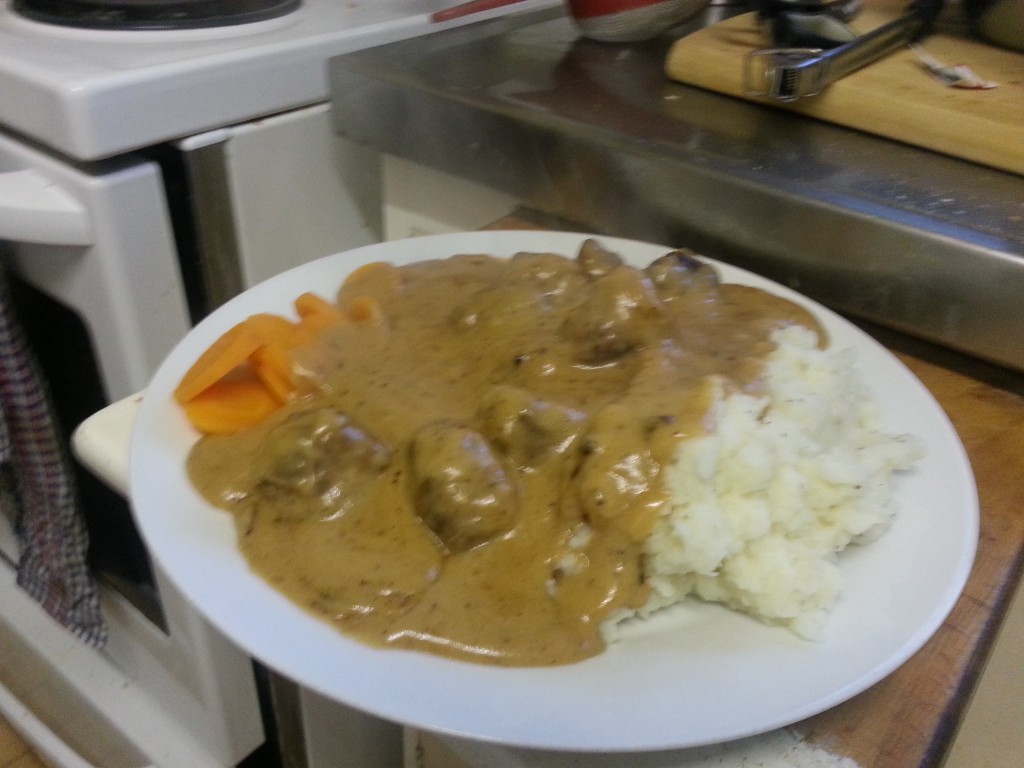 Serve with some kind of booze. Whatever kind is completely up to you.